Simpson Voyager 2 SA2015 Helmet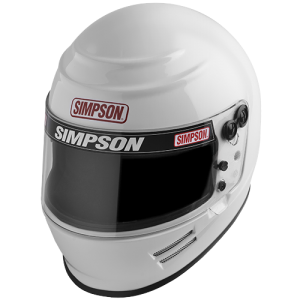 Simpson Voyager 2 SA2015 Helmet
Snell SA 2015 helmets meet Snell's latest and most stringent safety standards. In addition to the strict testing for high impact crashes that Snell certified helmets are subjected to, new tougher requirements have been added for Snell SA 2015 certification that also include low velocity and low lateral testing. Additionally, SA 2015 helmets must now be equipped with FIA 8858-2010 compliant M6 terminal mounts for frontal head restraints.
The Voyager 2 features the largest eye port for excellent field of vision. The helmet interior includes contrast stitching and branding.
Frontal head restraint ready
Radio communications may be added
Recommended for multi-use including Circle Track, Dirt Track, Drag Racing, Karting, Off Road and Road Racing
Simpson recommends only soap and water for cleaning your shield. You should never use an alcohol or ammonia based cleaner such as window cleaner.
SKU: 610

Reviews