PRL Motorsports Turbocharger Inlet Pipe Kit: 2016-2021 Honda Civic 1.5T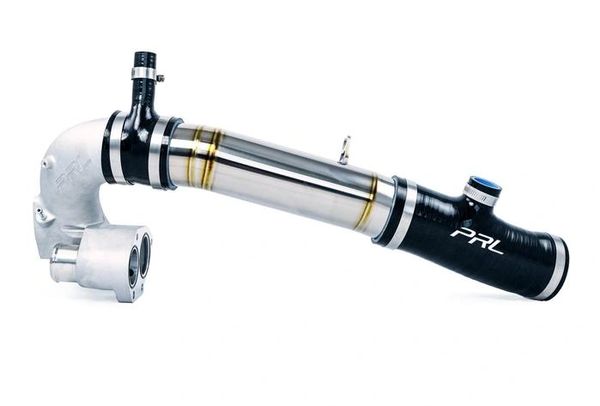 PRL Motorsports Turbocharger Inlet Pipe Kit: 2016-2021 Honda Civic 1.5T
PRL Motorsports Turbo Inlet Pipe Kit for the 2016+ Honda Civic 1.5T platform.

Our goal and focus of the L15B7 platform is obviously power and efficiency, which is something to never to be overlooked as it compliments power. One component we have discussed countless times is how to upgrade, manufacture, and bring to market a solution to the small and unsightly factory plastic turbo inlet pipe. Upgrading the factory inlet pipe will increase airflow, complimenting our cold air intake, and allowing the turbocharge to operate more efficiently. Though, this project poses a few obstacles to overcome compared to other similar platforms. 

The factory inlet pipe is rather complex. Honda's injection molded pieces utilize a built-in Bypass Valve (BPV), vacuum, charge air (compressor outlet), and evap ports. A combination of these features paired with the snug routing and unique profile of the inlet pipe has presented an engineering nightmare. Could we design a desirable prototype with our CAD software? Sure. But the difficulty in manufacturing is transforming an idea or design into a functioning and affordable product. We have implemented new technology, tools, and manufacturing methods that we have acquired from years of experience in an effort to bring an aesthetically pleasing, affordable, and high-performing turbo inlet pipe kit to market. 

Basic Tech Information:

The Civic Si and Non-Si models utilize two slightly different inlet pipes. However, despite common misconception, the difference between the two in terms of flow and performance is very minor. Both pipes feature similar cross sections.

– Please note that the Turbo Inlet Pipe will fit both Si and Non-Si models with stock and/or stock location, plus drop-in upgrade turbochargers.
SKU: PRL-HC10-INT-TIP-A, PRL-HC10-INT-TIP-B


Reviews