PRL Motorsports High Volume Intake System: 2017+ Honda Civic TYPE-R (FK8)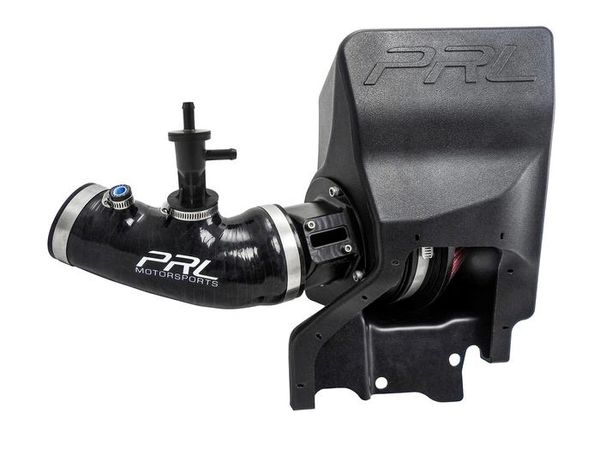 PRL Motorsports High Volume Intake System: 2017+ Honda Civic TYPE-R (FK8)
FK8 Civic Type-R High Volume Intake system utilizes a 6" cone filter and billet 2-piece MAF housing with velocity stack(s) to allow maximum airflow while delivering proper fuel trims. The HDPE rotomolded air box utilizes the factory air duct and seal for optimal airflow and heatsoak reduction. Custom molded 4-ply silicone allows for all components to be safely attached without obstructing airflow.

Initial Testing (Street MAF HOUSING) Results:
All testing was performed on the same day with a rather mild 55 degree Fahrenheit day and moderate humidity. We started all single dyno pulls at 174 degrees, while continuous (back-to-back) dyno pulls start at 174 degrees and end around 197 degrees.
PRL's first comparison they tested the factory intake system on KTuner's stock equivalent ECU map versus the High Volume Intake System on KTuner's stock equivalent ECU map for an apples-to-apples comparison. Run 2 was the coolest (174 degree starting temp) for both setups. PRL saw an 
11 - 12 horsepower peak gain and 

32 horsepower gain throughout the mid-range over the factory intake system

.
Fitment Notes:
FITS ALL 2017+ HONDA CIVIC TYPE-R MODELS INCLUDING 6MT, CVT, RHD, INTERNATIONAL MODELS, ETC
FITS FACTORY TURBOCHARGER INLET PIPE OR PRL MOTORSPORTS INLET PIPE
Please Read Before Ordering:

NO TUNE REQUIRED FOR STREET MAF HOUSING
RACE MAF TUNE / MAF SCALING CALIBRATION REQUIRED FOR RACE MAF OPTION
Kit includes:

(1) 4-Ply Silicone Intake Hose
(1) Injection Molded Evap Fitting
(1) Two-Piece MAF Housing
(1) Rotomold Air Box
(1) 6" Air Filter
(4) Stainless Steel Breeze Lined Clamps
Stainless hardware (Please torque all hardware and use blue Loctite as needed) They can back out if you don't!
Wire Loom
SKU: PRL-HCR-INT-HVI-A, PRL-HCR-INT-HVI-B
Reviews