PRL Motorsports CVT Cooler Kit: 2016+ Honda Civic 1.5T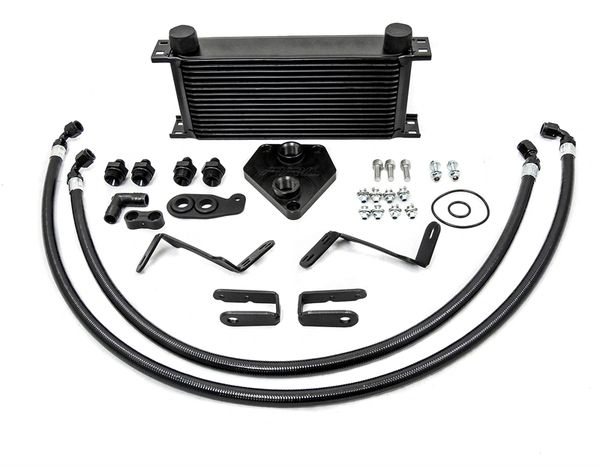 PRL Motorsports CVT Cooler Kit: 2016+ Honda Civic 1.5T
Installation Instructions HERE
Maintaining proper fluid temperature is essential to extending and preserving the life your CVT. 

Our CVT cooler kit includes everything needed to install. 

The included core is a 16 row stacked plate cooler which is designed to withstand high fluid pressures and significantly reduce transmission fluid temperatures with minimal pressure loss. Transmission cooler lines are constructed of stainless steel braided PTFE line and finished with a protective coating.
Heat Exchanger Specs:
Cooler style: Stack Plate

Number of Rows: 16

Construction: Aluminum

Coating: Black

Inlet size: -10AN o-ring female x -6AN male

Width: 13"

Height: 6-7/16"

Depth: 2"

Inlet dim: 10"

32,000 BTU's Per Hour

10oz Additional Fluid Capacity
 Kit Includes:
(1) Transmission Cooler

(1) Transmission Cooler Bracket Set

(1) Transmission Cooler Line Bracket Set

(2) Coated/Braided PTFE -6AN Lines

(1) Billet Transmission Distribution Block  *Anodized Black*

(2) Hi-Temp O-Rings

(4) -10 ORB O-Ring / -6AN Adapters

(2) Line Brackets

(1) Line Separator

(1) Stainless Steel Hardware Bag w/ Serrated Nylock Nuts
SKU: PRL-HC10-TRANS-CVT
Reviews