PRL Motorsports 3.5" Race Downpipe: 2017+ Honda Civic TYPE-R (FK8) & 2018+ Honda Accord 2.0T & 2019+ Acura RDX 2.0T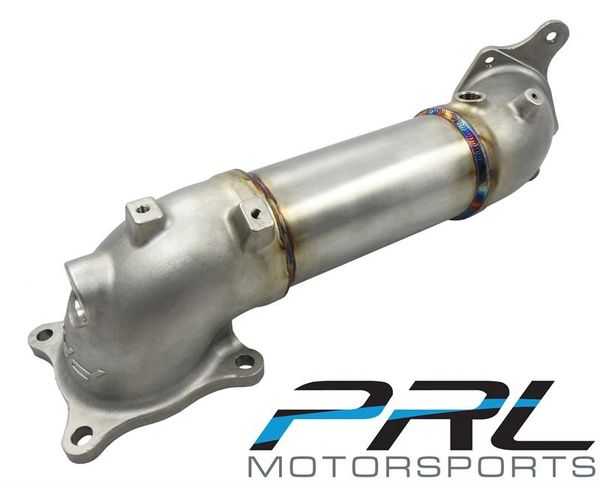 PRL Motorsports 3.5" Race Downpipe: 2017+ Honda Civic TYPE-R (FK8) & 2018+ Honda Accord 2.0T & 2019+ Acura RDX 2.0T
**Please note this 3.5" Race Downpipe is for off road use only**
Increases of 16+ HP gain & 6 FT/LB TQ!
Testing has shown that a downpipe upgrade is one of the most effective modifications to perform when looking to increase power of Honda's 2.0L turbo engine.
PRL Motorsports' 3.5" Race Downpipe is constructed of 304 stainless investment cast openings with smooth transitions from the 3.75" opening, to the 3.5" body and finally a 3.0" outlet flow and fitment while retaining heat shields. Pair this with PRL Motorsports' 3" Front Pipe for optimal exhaust flow and performance.
All pieces are fully back-purged. All kits will include gaskets, stainless hardware, O2 plug and components needed for a seamless installation.
Although an O2 defouler can be utilized, results can't be gauranteed in order to keep CELs off unless users turn it off via KTuner or Hondata.
Downpipe includes:
(1) Downpipe
(2) Stainless steel spacers
(2) M6 washers
(1) M6 x 55mm hex bolt
(1) M6 x 40mm hex bolt
(1) M18 x 1.5 allen head hex plug
(1) Gasket kit - PRL-HCR-DP-HW1
**Please note factory heat shields are not included**
SKU: PRL-HCR-DP, PRL-HCR-DP-COMBO, PRL-HA10-20T-DP-COMBO
Reviews