OS Giken TR2C Twin Plate Clutch Assembly w/ Flywheel: 2017-2021 Honda Civic TYPE-R (FK8)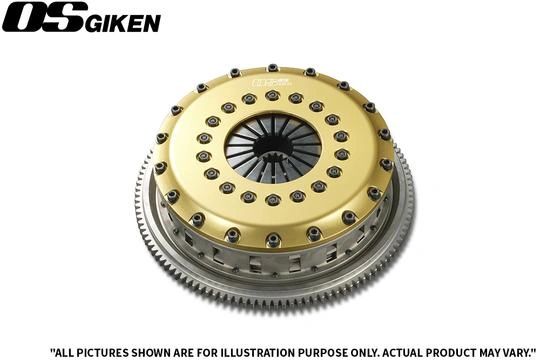 OS Giken TR2C Twin Plate Clutch Assembly w/ Flywheel: 2017-2021 Honda Civic TYPE-R (FK8)
The [TR2C] - TR Twin Plate Clutch series line-up was designed for vehicles which have substantial increases in engine power. The billet aluminum cover provides a more direct clutch pedal feel, but still maintains ease of engagement due to the unique leverage mechanism of the diaphragm spring to reduce overall pedal effort.
The TR2C was designed with high power Turbocharged engines in mind. This type of clutch caters toward the heavily modified engines. The solid hub clutch discs are 215mm in size and are good up to about 850lbs ft of torque reliably. The aluminum cover allows for higher clamping force (increased capacity) and will handle the hard abuse often found at the track.
Our specially designed clutch cover contains a unique leverage mechanism for the diaphragm spring, resulting in a higher clamping load of the clutch disc(s) while also reducing pedal effort. These diaphragm springs combined with our special OS Giken Release Sleeves provide a much easier to operate clutch.
DISCS
We utilize full face metallic clutch plates to achieve high torque capacity from our clutches. This allows for us to use much softer diaphragm springs to achieve equal or better torque capacity compared to our competitors with substantially less pedal effort.
Integrated ventilation holes reduce heat generated inside the clutch system and allows for friction plate dust to exit outside the clutch system, thus increasing reliability and safety. Both the clutch housing and flywheel are chemically heat treated to handle extreme conditions. Increased power output typically requires more torque capacity(friction) in order to hold. This often leads to more heat being generated
Our hardened steel alloy flywheels provide superior durability and life than aluminum flywheels, which also results in quicker and predictable engine response. We develop our own flywheel design to maximize our design and engineering philosophies into a no-compromise, complete clutch assembly.
Our integrated clutch and flywheel packages increase transmission efficiency and engine response. Our clutches and flywheels are built within strict tolerances and crafted using carefully selected materials to provide the highest quality and durability.
SKU: HA082-BF5
Reviews