HKS Oil Cooler Kit: 2017+ Honda Civic TYPE-R (FK8)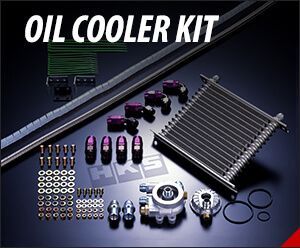 HKS Oil Cooler Kit: 2017+ Honda Civic TYPE-R (FK8)
The K20C engine generates 306 hp with 2.0 displacement; therefore, the vehicle is equipped with a water-cooled oil cooler to stabilize the extreme high engine output.  However, under circuit driving, the temperature of both oil and water rise sharply because adequate heat radiation cannot be obtained, and fail safe mode becomes activated. Adding a HKS air cooling type oil cooler kit provides high heat exchange efficiency to suppress the temperature rise not only of the oil but also the water. HKS oil cooler kit includes a special aluminum air guide.

Features:
Newly developed 48mm wide 9-layer oil cooler core and special air duct to extract the maximum performance are utilized and mounted to the inside of the inner fender.
The oil pump's pulsation noise generated by increase of engine rotation sometimes transmits to the vehicle interior through the high pressure-resistant stainless mesh hose.  HKS oil cooler kit has the insulator to substantially reduce this pulsation noise.
The attachment has a thermostat to restrain excessive cooling of the part.
Vehicle modification required to install this kit is minimized. (Modification of back of the bumper, inner fender, and brake duct are only required.)
Parts included:
Oil Cooler Core
Air Guide
Oil Filter Mount
Stainless Mesh Hose
Oil Filter
Brackets
Other misc parts

SKU: 15004-AH004


Reviews