Griot's Garage GR3 Mini Rotary Polisher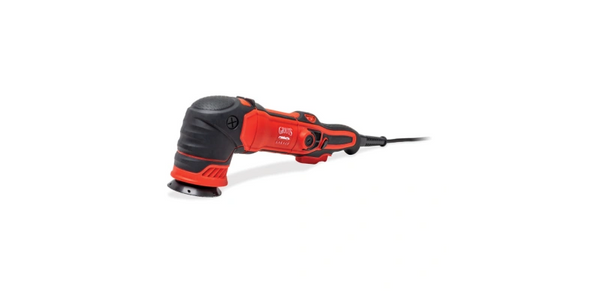 Griot's Garage GR3 Mini Rotary Polisher
The GR3 Mini Rotary Polisher is packed full of features that no other rotary polisher offers. Its 700-watt motor, 5/8" rotary-direct-drive shaft, lays down the power to correct severe paint defects and restore headlights to perfection. The included 1", 2", 3" Backing Plates and 2" & 3" Shaft Extensions enable you to bob and weave with precision through nooks, crannies, and difficult to reach body panels. Featuring a constant speed controller, and dual-pivot trigger throttle which lets you feather the finish with accuracy like never before. Its supreme ergonomics and extensive use of double-shot rubber throughout dampens energy and feels perfect in the hand all-day-long. Power multiple Griot's Garage polishers with one Quick Connect Power Cord to prevent trip hazards, simplify your storage, and save copious amounts of time. An incorporated spindle lock button allows for wrench-free removal of backing plates. The integrated contaminant protection screen prohibits wool and polishing debris from entering the motor, ensuring optimal operation. This tight and nimble platform performs like a finely tuned F1 race car. Performance, Comfort, Control... Built for the Professional.
Read/download detailed instructions on using the GR3 Mini Rotary Polisher (Adobe PDF format).
Read/download which pad and liquid car care combination is right for your paint's condition (Adobe PDF format).
Downloadable Reference Chart pairs the GR3 with the Best Of Show System® (Adobe PDF format).
Powerful 700-watt, 6-amp motor
5/8" - 11 threaded shaft
Variable speed, dual-pivot trigger throttle
800 - 2500 rotations per minute (RPM)
6 speed settings: 1-800, 2-1150, 3-1500, 4-1850, 5-2200, 6-2500
10-foot quick-connect 18 AWG SJO rubber power cord
Speed dial accessible for right- and left-hand users
Constant speed control
Ergonomic design dampened with double-shot rubber for supreme comfort
Shroud grip contoured to accommodate four fingers
Low-resistance premium sealed ball-bearings ensure long-service life
Quick access brush side ports for easy maintenance
Contaminant protection screen
Trigger lock button
Restart safety protection circuitry prohibits machine from running should cord be unplugged and re-plugged in with trigger lock engaged
Inverted rest pads prevent pad contamination when tool is set down
Lifetime lubricated with Mobil® Mobilux™ molybdenum gear grease
Includes 1", 2", and 3" Mini Rotary Backing Plates for versatile application
SKU: 10918
Reviews