AEM High-Flow Low-Current WMI Solenoid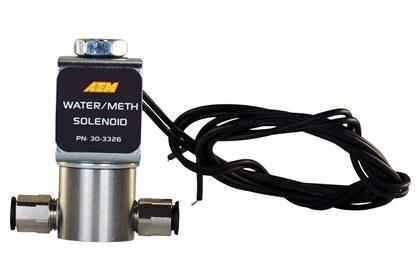 AEM High-Flow Low-Current WMI Solenoid
STOP! THIS PRODUCT HAS LEGAL RESTRICTIONS. READ THIS BEFORE INSTALLING/USING!
WARNING!
THIS IS A RACE ONLY PRODUCT MANUFACTURED AND SOLD FOR INSTALLATION ON VEHICLES DESIGNED TO BE USED SOLELY FOR COMPETITION PURPOSES. ONCE THIS PART IS INSTALLED, THE VEHICLE MAY NEVER BE USED, OR REGISTERED OR LICENSED FOR USE, ON A PUBLIC ROAD OR HIGHWAY. IF YOU INSTALL THIS PART ON YOUR VEHICLE AND USE THE VEHICLE ON A PUBLIC ROAD OR HIGHWAY, YOU WILL VIOLATE THE CLEAN AIR ACT AND MAY BE SUBJECT TO PERSONAL CIVIL OR CRIMINAL LIABILITY, INCLUDING FINES OF UP TO $4,819 PER DAY.
AEM's stainless steel Water/Methanol Injection Solenoid (PN 30-3326) eliminates any chance of water/methanol flow into the inlet when the WMI system is not engaged. This affordable water/methanol injection accessory features high flow capability (3,600cc/min) and an impressively low current draw of only 0.75A that does not require the use of an additional relay.

The valve body features include 1/8" NPT ports with included push-to-lock ¼" hose fittings for easy connection and EPDM seals that stand up to corrosion for years of reliable use. It's an inexpensive insurance policy to protect your high performance engine regardless of the brand of water/methanol injection system you are using!
Features:
High flow rating (3600 cc/min @ 150 psi)
Low current draw (0.75A @ 13.5V)
No additional relay required
Standard 1/8"- 27 NPT inlet/outlet with included ¼" push-to-lock hose fittings for easy installation
Fast response time
Tested to 200 PSI
Stainless steel enclosure and internals with EPDM seals for corrosion resistance
Flying leads simplify connection with user desired connector
SKU: 30-3326
Reviews